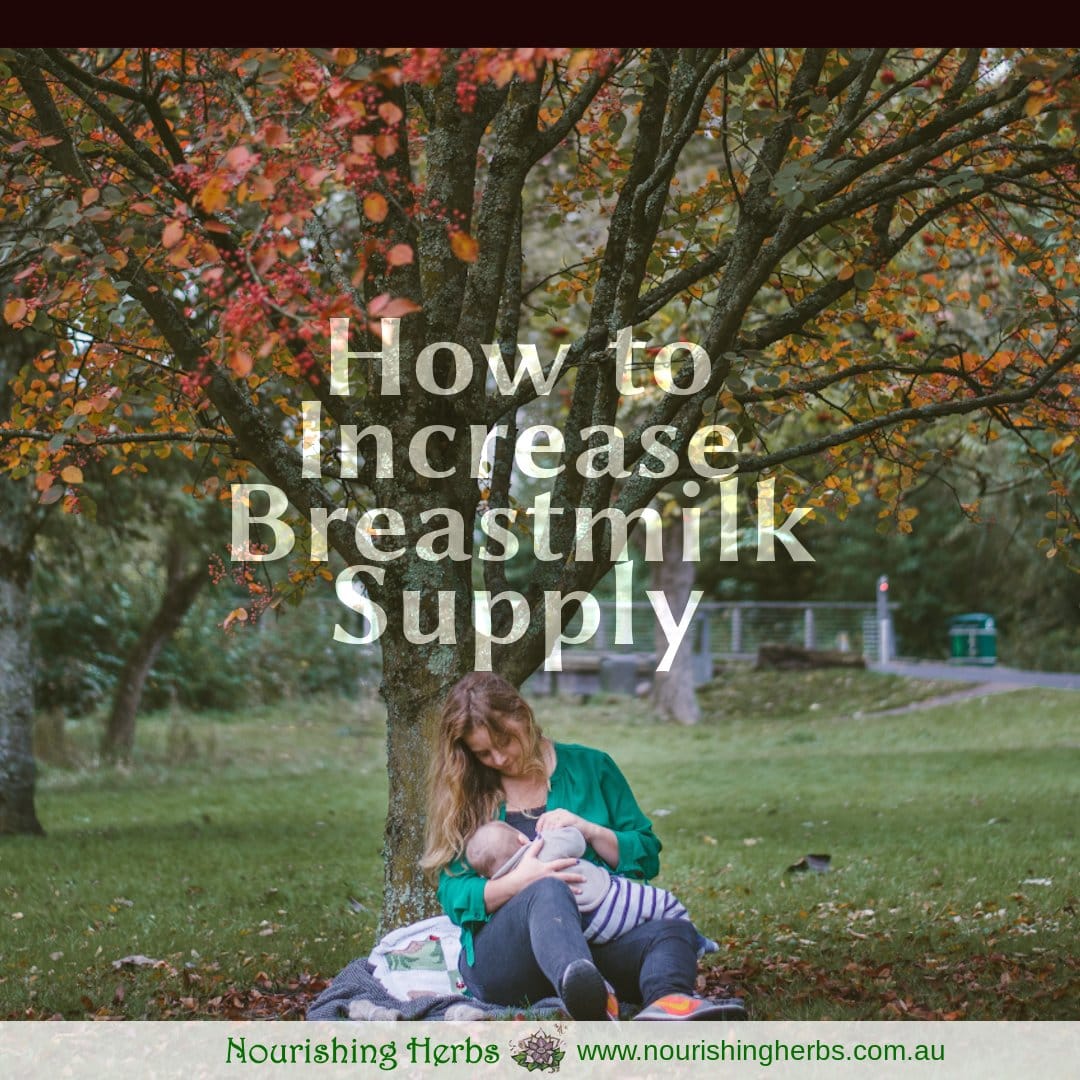 Galactogogues
Galactogogue (pronounced gah-lakh'-tah-gog) is the funny sounding scientific word for foods, herbs and medications that stimulate breastmilk supply by increasing prolactin and oxytocin output. Do you need the help of galactogogues? The answer to that relies on a few factors.
How is breastmilk made?
Your body will make breastmilk when it receives the right signals. Usually this is when you have been pregnant and your baby has been born, or sometimes from a month or so beforehand.
For most people this works best if all the signals are from your own body. The oxyctocin that stimulates labour increases the output of milk when your baby is born, and then when you put the baby to the breast right after birth prolactin is stimulated, which is the signal to your brain is that you now have a baby to feed and milk is pushed out in response, as the suckling stimulates your nipple. This also increases the love hormone, oxytocin, at the same time which solidifies the bonding in your brain and the baby's brain. When this happens in the golden hour after birth, you are set up to continue producing milk whenever your baby signals hungry.
Supply and Demand
As your baby grows and their needs change, your milk will change with them. When they are first born, the colostrum that you provide is very high in energy and nutrients, as the baby has been used to a constant supply of nutrients from the placenta, but has a stomach the size of a marble. This is why the baby will want constantly be on the nipple in the first 6 to 8 weeks. As the grow and their stomach gets larger, the milk will contain more proteins and water as well.
Your baby sends your body the signal for how much milk to make. Each time the baby suckles on your nipple, it is sending a signal to make milk, and it is setting a pattern in your brain for the frequency and amount of milk he or she will need in the future.
In the first 6-8 weeks you will make way more milk than your baby needs. This is natures way of ensuring that you have enough for multiple babies, if necessary. As time goes on, however, your baby sets the timing and amount of what it will need. It is important that during this time, your avoid bottle feeding, or using pacifiers or dummies, except in an emergency, as this can mess with nature's perfect system of supply and demand, and may decrease your supply.
When you might you need galactogogues
When birth has been difficult or traumatic, and when the mother hasn't had the golden hour with her baby, bonding and suckling right after birth, it can confuse the instinctive signals between mother and baby.
The baby has certain instincts to crawl towards the breast and to suckle right after birth. Unfortunately, the longer this skin to skin holding is put off, the less those instincts kick in. The baby can still learn to suckle, but it might be more difficult, and they might need extra help. This, in turn, affects the supply and demand production of the milk. If you experience these issues, its really a good idea to talk to a breastfeeding counselor or lactation consultant. The behaviour between mother and baby is really the key to producing enough milk, as well as secure attachment.
After the first six to eight weeks, your body will have gotten used to the amount of milk to produce, based on feeding your baby on demand. For some people, this will mean that you are producing way less milk than during the first six to eight weeks. This doesn't mean that you are losing your milk or producing too little. In the first weeks, you may get used to your breasts feeling "full", but as your baby gets older and your body becomes attuned to the amount of milk they need, your breasts will stop producing more than the baby needs, and start producing it on demand instead. This might mean that your breasts feel softer and slightly smaller, between feeds, than they did in the first six to eight weeks.
Here are some signs to look for to gauge whether you are producing enough milk.
If you are producing enough milk, and your baby is feeding correctly , your baby will have bright eyes, they will be alert when awake, they will be eager to feed and have a strong suck, they will also produce six to eight wet or dirty nappies in 24 hours, and they will be gaining an appropriate amount of weight. They will also wake through the night to feed at least two to three times.
Your breasts produce milk on demand, so if everything is working properly, the slightest feeling that the baby is ready to feed will trigger the let down reflex, which is when your breast pushes milk from the lobes where it is produced, towards the nipple and you might start to leak a little. This feels like pins and needles around your breasts and underarms.
Generally speaking, if you have made sure that your baby is properly attached, is feeding on demand, but you still feel like you need extra help producing milk, this is when herbs and foods that are galactogogues can be helpful. Remember that extra stress, anxiety and not enough physical skin to skin time with your baby, especially if they are under six months, can inhibit milk production and the let down reflex.
If you have to work and pump, try putting on headphones with a recording of your baby making sounds, or a video of your baby and concentrate on them while pumping. When you get home spend plenty of time with them in your arms, skin to skin.
Other reasons for low milk supply and using galactogogues to boost your supply are: exclusively pumping for a premie or sick child in hospital or a baby with feeding issues, breastfeeding after surgery, stress, the return of menstruation causing a dip in supply, taking hormonal birth control, starting breastfeeding again after a break, breastfeeding an adopted baby.
Foods that increase breastmilk supply
When you are breastfeeding you need a good balance of nutrients in your diet. Every day you should have 2-3 servings of protein foods such as poultry, fish, meat, eggs, dairy or a combination of beans, nuts, and seeds.
Each day eat a minimum of three servings of a variety of colourful vegetables, have two servings of fresh fruit and include other complex carbohydrates like nuts, seeds, beans and whole grains.
Drink enough plain water to satisfy thirst, have minimal caffeinated drinks as the caffeine can come through the milk, and can also be a culprit in lower milk supply, if you are having too much every day.
Vegetarian diets can be compatible with breastfeeding, if you are careful to plan your diet to get the nutrients you require. If you would like to avoid meat make sure to include other sources of iron and zinc such as dried beans, nuts, seeds, dairy and eggs. If you would prefer to have a vegan diet and avoid all animal products, add a nutritional yeast supplement and a B12 supplement so you and your baby don't develop a B12 deficiency.
Specific foods that can help boost your milk in times of stress and or low nutrition are: garlic, oatmeal, barley, brown rice, brewers yeast, and yeast spreads such as Vegemite.
Fermented foods like yoghurt, kefir, kimchi, sauerkraut and lacto-fermented pickles are especially important to include as they keep your gut healthy and this is imperative to being able to absorb nutrients.
Green and leafy vegetables (particularly cos lettuce, watercress, parsley, rocket, spinach, silverbeet, broccoli, kale, alfalfa sprouts and asparagus) and yellow orange and red vegetables (carrots, pumpkin, sweet potato, red capsicum) promote rich milk as well as increasing volume.
Almonds and other nuts, chick peas, sesame seeds and tahini, sunflower seeds boost supply because they are nutritionally dense. Spices and cooking herbs like ginger, cumin, fennel, anise seeds, fenugreek, turmeric and coriander/cilantro moringa leaves, and dill can be very useful as a boost, especially used in conjunction with some of the other foods on this list.
Milk Boosting Recipes
Here are three recipes which I recommend as side-dishes to have in your fridge which help boost supply: hummus, tabbouleh and almond pesto.
Hummus
Hummus is a dip that is yummy on crackers, with flat bread or as a side dish for a meal.
1 can of chickpeas
4 tablespoons of tahini (sesame seed paste)
2 cloves of raw garlic, crushed
4 tablespoons of lemon juice
1 teaspoon pink salt or sea salt (or to taste)
1 teaspoon cumin powder
3 tablespoons of extra virgin olive oil
To your clean food processor bowl add tahini, lemon juice and garlic and blend till it turns creamy.
Add your chickpeas, small amounts at a time, with the water from the can, alternating with a tablespoon of olive oil at a time. Some people like to remove the skins of the chickpeas for a creamier dip. You can also substitute canned chickpeas for ones that you have cooked yourself, by soaking a cup of dried chickpeas overnight with a teaspoon of vinegar, cook them the next day in two cups of fresh water with a pinch of salt until soft,(usually an hour with soaked chickpeas).
Add cumin powder and blend till creamy. Keep in an airtight jar or container in the fridge for up to a week.
Tabbouleh
Tabbouleh is a parsley salad which is delicious in wraps, or as a side dish.
1 big bunch of parsley
2 ripe firm tomatoes
2 sprigs of fresh mint (or to taste)
3 spring onions
1/4 cup bulgur wheat, soaked overnight in the dressing (you can substitute cooked quinoa as a gluten free alternative)
Dressing:
2 cloves of garlic
3 tablespoons of lemon juice
2 tablespoons extra virgin olive oil
pinch of salt
Make the dressing by crushing the garlic and adding lemon juice, olive oil and salt.
Soak the bulgur wheat in the dressing for at least an hour, but overnight tastes better.
Chop parsley, mint, spring onions and tomatoes finely, and combine with the bulgur and dressing.
Almond Pesto
Pesto is a paste usually used on pasta, but it can also be a condiment for any other meal that you would like.
1 bunch fresh basil, roughly chopped
1 bunch fresh parsley, roughly chopped
2 tablespoons lemon juice
2 cloves crushed raw garlic
4 tablespoons extra virgin olive oil
4 tablespoons grated parmesan or other hard cheese
4 tablespoons almonds
1 teaspoon salt
In a food processor blend the almonds while adding olive oil, lemon juice and garlic. When creamy add the basil and parsley and blend till fine. Add parmesan and salt and blend till fully combined. Store in an airtight jar or container in the fridge. Can last up to a week.
Herbal help to build breastmilk supply
Herbal teas are an easy way to increase your breastmilk supply, by increasing the intake of fluids as well as nutrients and the actions of specific herbs.
The herbs that I have in my Mother's Milk Booster are raspberry leaf , stinging nettles, goat's rue, lemon balm, lemon verbena, red clover, blessed thistle, fennel, fenugreek, marshmallow root, chamomile, rosehips, hibiscus, rose petals and coconut. These herbs in combination are the ones that I found the most helpful when breastfeeding my own babies. I hope they help you as well.
Happy breastfeeding!