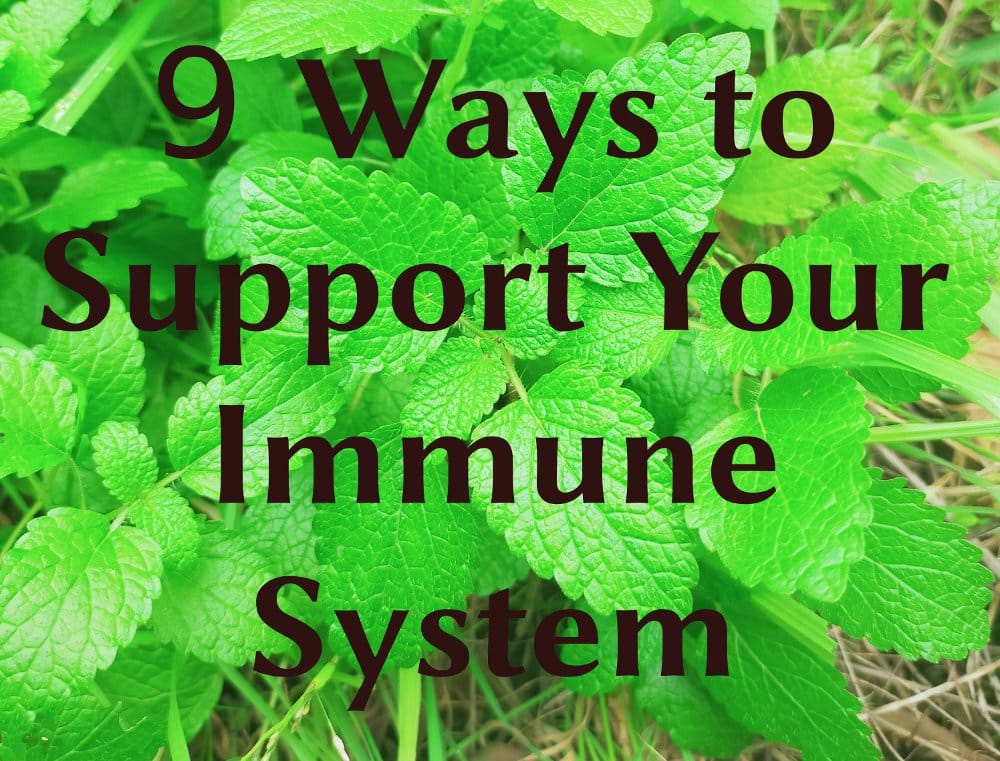 In these uncertain times with a pandemic on our doorstep, it's important to understand some ways to support your immune system. Your immunity is a finely tuned system that repels invaders, and remembers which invaders it has had to repel before. There is no "one size fits all" natural remedy that you can take. However there are a variety of ways that you can strengthen your body and its resources so that you are in the best condition possible to fight off whatever comes your way.
Your immune system is 99% dependent on your management of stress, sleep, exercise and nutrition. The other 1% is where a supplemental approach can be useful.
Exercise Outdoors
Sleep
Vitamins A,D, E and C
Eat Fermented Foods
Include Broccoli and Cabbage
Get Enough Omega 3
Mushrooms, Oats and Barley
Zinc for Healing
Herbs to Strengthen Your Immune System
Exercise Outdoors
Exercise builds your stamina and general health, and exercising outdoors also gives the benefits of added Vitamin D from the sun as well as healthy gut bacteria from inhaling air around trees and growing things. Better muscle tone gives your body more resources to draw from for energy as well as general strength. Aerobic exercise like walking, running and lifting weights can help expand your lung capacity so your body can process oxygen more efficiently. Aerobic exercise, also known as cardio exercise, increases the strength and stamina of your heart muscle, which pumps blood through your veins to circulate oxygen and nutrients throughout your body, which in turn, aids your immune system to work efficiently. A study published in The American Journal of Medicine showed that women who walked for 30 minutes a day, over the course of a year, had half the number of colds as a group who didn't walk.
While most of us are isolated at home, due to social distancing measures, we can still get enough exercise. You can go walking or bike-riding in the local park or around the neighbourhood. There are also videos on the internet which show High Intensity Interval Training workouts. These exercise patterns can be done inside if necessary due to weather, or in your backyard, on a balcony or the local park, with an appropriate distance between you and other park users. A set of light hand held weights is useful and can be bought inexpensively. Other options can include using 2 litre bottles filled with water for a light weight workout or other innovations for exercising at home. Where possible exercise in the sunshine outside.
Sleep
Sleep is a vital function that supports our body to heal as well as to stay strong to fight off invaders. Most of us have trouble knowing how much sleep is enough, as well as how to set up our lives so that we get enough.
There is no optimum amount for everyone. Some people naturally need less and others need more. However there have been studies which show that the minimum we should have to prevent our bodies becoming weak and our brains from degenerating is 7.5 hours.
If you have trouble getting a minimum of 7.5 hours every night, a good option to help is our Sleepytime or Serenity blends.
Get enough Vitamin A, D, E and C
Lack of vitamins A,D, E and C has been shown to slow down healing. The best way to get these vitamins is from foods that contain them, but a quality multivitamin can help, especially if some foods are expensive or in short supply. Luckily most people living in Australia have the opportunity to get enough foods that contain the important nutrients. Quality doesn't necessarily equal expensive. Most vitamin supplements produced in Australia are decent quality, even the cheaper ones. Follow the dosing guidelines on the bottle and don't megadose any vitamin. This can cause liver damage.
Vitamin D can be gotten by exposing approximately a third of your skin to the sun for 15-20 minutes when the sun is at its highest, between 11 am and 2 pm. You can do this by uncovering your arms and shoulders. If you are uncovering your legs, you must be lying down so that the suns rays can reach them without your body being in the way. You must be outside as glass blocks the rays which produce Vitamin D.
Foods that are high in vitamin A: Orange,yellow and dark green leafy vegetables and fruits contain a type of vitamin A called "beta-carotene". Beta-carotene needs to be eaten with a healthy source of fat so that it can be absorbed properly. Other sources of readily available vitamin A are: eggs, cod liver oil, oily fish such as mackerel and salmon, milk and dairy products, and liver. Herbs and spices that are high in vitamin A: paprika, cayenne, turmeric, parsley, coriander, dill, basil, tulsi.
Foods that are high in vitamin D: Maiitake mushrooms and portobello mushrooms supply D2. Sunshine, egg yolks (four eggs supplies your recommended daily amount), cold water fatty fish, free range grass fed dairy products and liver supply Vitamin D3. Some fortified foods supply vitamin D3, also called cholecalciferol on the nutrition table of the package. Herbs and spices that are high in vitamin D: allspice, aniseed, caraway seed, cardamom, cinnamon, fennel seed, fenugreek, ginger, nutmeg, paprika, cayenne, and black pepper.
Foods that are high in Vitamin E: Sunflower seeds, almonds, hazelnuts, pine nuts, peanuts, brazil nuts, avocado, abalone, Atlantic salmon, Rainbow trout, red sweet capsicum, mango, kiwifruit. Two to three servings of these will give you your recommended daily amount. Herbs and spices that are high in vitamin E: cayenne, paprika,turmeric, caraway, cinnamon, black pepper, ginger, nutmeg.
Foods that contain Vitamin C: acerola cherries, rosehips, chili peppers, guavas, sweet capsicum, blackcurrants,mustard greens, kale, kiwi fruits, broccoli, Brussels sprouts, lemon juice, lychees, papaya, strawberries, oranges. Cooking reduces the vitamin C, but even when cooking certain vegetables, such as kale, Brussels sprouts and broccoli, a half cup still provides half of the RDA of Vitamin C as well as making other antioxidants more readily available. Herbs and spices that contain high vitamin C: turmeric, rosehips, thyme, parsley, paprika, cayenne, chili, basil, allspice, peppermint and other mints, black and white pepper, tulsi.
Eat fermented foods
Fermented foods contain beneficial bacteria, which provide a wide variety of benefits for your health including helping your digestion, keeping pathogens under control by populating the gut, teaching our immune system how to behave, producing specific "natural killer" cells which get rid of "bad" bacteria, fungi and viruses. Some fermented foods that are very helpful are sauerkraut made from cabbage or a combo of vegetables, lacto-fermented pickled cucumbers, kimchi, Indian green mango or lime pickles, kefir, yoghurt, miso, and natural tofu.
Include Broccoli, Cabbage and Garlic
Your gut has special cells called lymphocytes which have receptors on them which specifically receive a molecule from cruciferous vegetables, like broccoli and cabbage. When this molecule clicks into the receptor the lymphocytes switch on and stimulate other cells to be alert and ready to attack invaders. Cruciferous vegetables prime your immune system to be ready as your first line of defense. Cruciferous vegetables include broccoli, cabbage, Brussels sprouts, cauliflower, kale, bok choy, watercress. Other vegetables that have a similar function are onions and garlic. Garlic is especially powerful when crushed and added raw to foods such as salads or added to your soup right before you eat it.
Get enough Omega-3
Omega 3 fatty acids like DHA are found in fish oils, and enhance B cells, which are a type of white blood cell. They help regulate and strengthen the immune system. You can either eat cold water fish, such as salmon, trout or cod, or take a supplement like fish oil or cod liver oil.
Mushrooms, Oats and Barley
Beta-glucans are naturally occurring sugars found in mushrooms, oats and barley. These substances increase your immune defenses by activating complement systems, like your natural killer cells, to attack viruses and pathogenic bacteria.
Zinc for Healing
Zinc is a micronutrient essential for human health, without it our bodies cannot heal. Because we cannot make zinc in our bodies it must be provided through our diet. Zinc is required for the body to manufacture the proteins to close wounds, for immune function, healthy gene and DNA expression, and for growth and development.
Zinc is necessary for metabolism, digestion and nerve function. Zinc is vital for healthy skin and is your bodies first defense against invaders. Lack of zinc can lead to losing your sense of taste and smell. Immune cell function is reliant on having a good supply of zinc, as it aids the communication of immune cells and their response to invaders. Lack of zinc equals weakened immune response. Food sources of zinc: shellfish, lamb, pork, beef, turkey, chicken, flounder, sardines, salmon, sole, chickpeas, lentils, black beans, kidney beans, pumpkin seeds, cashews, hemp seeds, milk, yoghurt, cheese, eggs, oats, quinoa, brown rice, mushrooms, kale, peas, asparagus, beet greens. Herbs and spices high in zinc: poppy seeds, cardamom, caraway seed, aniseed, coriander seed, turmeric, paprika, fennel seed, ginger, fenugreek, cayenne, thyme, basil.
Herbs to Strengthen Your Immune System
Although I have already listed some herbs and spices that are useful for getting vital nutrients, there are other reasons to take herbs.
Some herbs are adaptogens, also known as immunomodulators and immune tonics, which means that they help your body to cope with stress and support your body's immune system for the long term. Stress can come from all sorts of directions such as hard work, exercise, lack of sleep, increased anxiety, and illness. Taking an adaptogenic herbal tea can be a great support for your body to help you cope. Some adaptogens that are easy to take as a tea are liquorice root, tulsi (also know as Holy Basil), Siberian ginseng(eleuthero) and turmeric, found in our Liquorice Lovers, Peace Love and Ginger, Tulsi Chai, Sarsaparilla Detox, Focus, Elderberry Immune Boost and Golden Turmeric Latte.
Antiviral herbs which are known for interfering with a virus as it tries to spread, are a very important way to keep yourself healthy when viruses are going around. Some pathogenic bacteria also try to get a foot hold when we get a virus, so its good to take some herbs which strengthen the immune system against these invaders. Some antiviral herbs are immunostimulators and are best not taken long term, just when you have come into contact with a virus or are fighting a viral or bacterial infection. They stimulate natural killer cells which cause minor inflammation for a time, but reduce the viral numbers in your body. These herbs are elderberry, elderflower and echinacea. Our teas which are useful to take several times a day when fighting a virus or infection are: Elderberry Immune Boost and Elderflower Throat Soother.
Other herbs which support immune function and the flushing of bacterial infection are: liquorice root, mullein, elecampane, eucalyptus, lemon myrtle, lemon balm, peppermint, ginger,fennel, chamomile and valerian. Some of these herbs interfere with the replication of viruses, some prevent viruses from entering the cell, others help by flushing out bacterial infection by stimulating the mucous membranes. Our teas that contain these herbs are Elderflower Throat Soother, Elderberry Immune Boost, Lemon Balm Mint Drop, Australian Bush Tea, Sleeptyime, Serenity, Meditation, Happy Tummies, Liquorice Lovers, Peace Love and Ginger and Moroccan Mint Spiced Green Tea.